Unlock the Secrets to Effortless Press Handstands with Our Exclusive Self Study Course!
 Struggling to Turn Your Handstand into a Press?
Ready to Say Goodbye to Frustration and Hello to Success?  



Put an end to jumping and finally unlock Pressing! Our self-study course is the bridge between where you are now and where you want to be. 
Embrace the opportunity to master this skill and showcase your strength, control, and determination like never before. 
✓ Unlock a clear, proven, step by step action plan that will form the foundation of a successful Press.
✓ Uncover the precise focus areas that demand your attention in your pursuit of the Press Handstand. 
✓ Empower yourself with the knowledge and techniques needed to create a well-defined and effective roadmap to Press Handstand success.  
Ella

vate Your Press Practice with Our Proven Methodology!🚀
If you've been tirelessly attempting to achieve that elusive Press Handstand but find yourself stuck in a cycle of disappointment, your search for the ultimate solution ends here.
Our groundbreaking self-study course is meticulously crafted to guide you from the realm of struggle, to mastering the art of the Press Handstand like a seasoned pro!
No more guesswork--our expertly designed curriculum breaks down the complex mechanics, ensuring you understand the fundamental building blocks required for this impressive feat.
Say goodbye to aimless attempts and hello to a strategic approach that propels you towards mastery. 
No more frustration; it's time to pave your way to triumph!
We're not just offering you a course--we're offering a transformative journey.  Our course isn't about quick fixes or vague promises. 
It's about understanding, practice and consistency.
Here's what sets us apart:
✅ EXPERT GUIDANCE: 

Benefit from the expertise of a seasoned yoga teacher and ex Jr. Olympic Gymnast who has mastered the Press Handstand by the age of 5.
✅ COMPREHENSIVE CONTENT:

 Our curriculum covers every crucial aspect of the Press, leaving no stone unturned.  You'll find video demonstrations offering you a step by step progression plan ensuring your success.
✅ FLEXIBLE LEARNING: 

Tackle the course at your own pace, fitting it seamlessly into your busy schedule.  This is your personal journey!
✅ PROVEN RESULTS: 

Countless individuals just like you have achieved their Press Handstand practice with our methodology.  Check out our testimonials to see the incredible progress our students have made. 👇👇 👇
I've learned so much from Ella. Not just proper handstand technique, but also: to breathe, to enjoy the process (even the hard stuff) and to meet my body where it's at on any given day.
Amelia Los Angeles 
Ella unlocked my press handstand by teaching me to lift my knee caps to engage my quads.
Dawn Los Angeles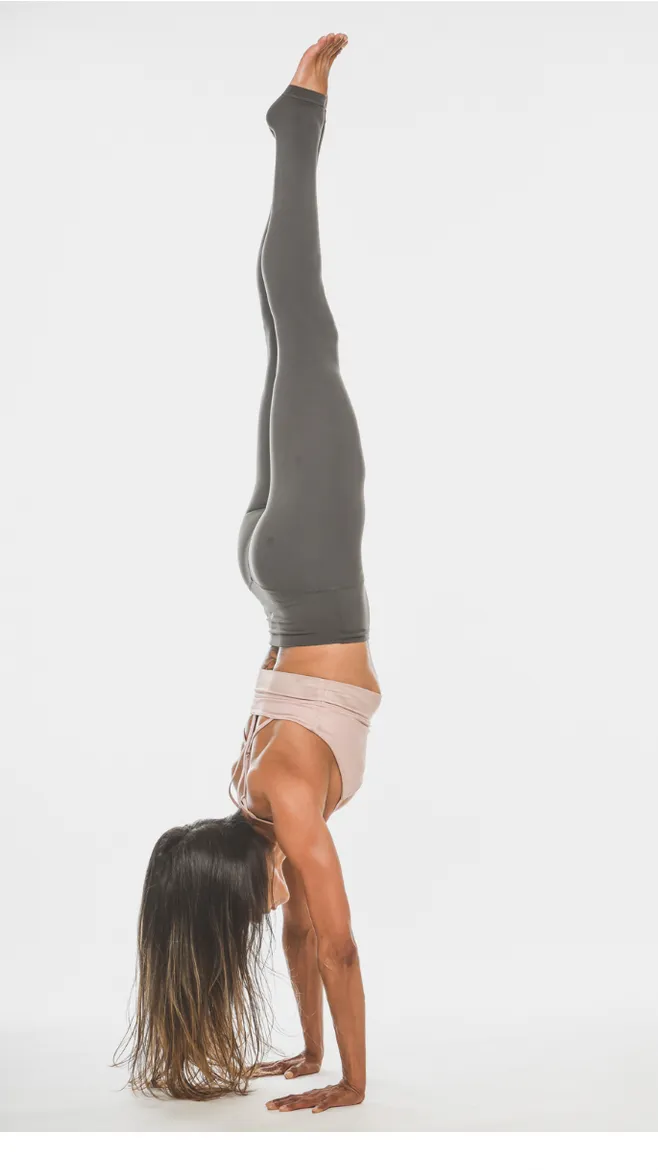 1st thing was watching Ella do what she was asking me to do...But it was through "application" where my body learned…..now I can consistently press into a handstand!
Micki Los Angeles 
Ella taught me how to engage my core, glutes and extend through my spine. I now have much more awareness of all my body parts when going upside down.
Kira Los Angeles 
Ella

vate Your Progress with a Proven Path to Press Handstand Mastery! 💥
Let's face it--the path you've been treading on, fueled by Instagram snippets and YouTube tutorials, has led you to a frustrating standstill.  While these sources might have given you a glimmer of hope, it's time to admit that they're not providing the consistent progress you truly need. 
The truth is, your journey towards the Press Handstand has hit a roadblock, and it's time for a smarter, more efficient approach.  The sporadic tips and tricks you've gathered from various platforms are no longer enough.
You're craving a structured, well-thought-out plan that not only ignites your progress but also ensures you break free from the shackles of stagnation.
No more second-guessing, no more hit-or-miss attempts--just a seamless journey guided by a coach who understands the nuances of this impressive skill.  Say goodbye to piecing together fragmented information.   
Introducing...
Press Handstand Like a Pro!
Presenting a revolutionary course constructed from my personal experience as a member of the Jr. Olympic Gymnastics Team of Romania!  Embrace a meticulously designed curriculum that takes you from the foundation to the pinnacle of Press Handstand proficiency.  Each class is purposefully crafted to build your strength, balance, and technique.
Press to Handstand training Course that you can access 24/7 through your computer, phone or app available to you anytime, anywhere!
An interactive course where you can practice the classes, track your progress and watch your inversion practice grow!
What You Receive Inside the Press to Handstand Course:
💥 Over 6 hours of curated content targeted to help you achieve Press success.  These sessions include specific drills meticulously crafted to strengthen the essential muscle groups required for mastering proper form and technique.
💥 11 pre-recorded Masterclasses that provide an extended format for practicing the lessons learned in this course.  This will help you build stamina, strength, and a deeper understanding of the Press.
💥 3 Stretch classes to help you overcome tightness in the body.
💥 Strategic warm-up and cool-down specific to your Press Handstand training.
💥 Lifetime access.
Module 1
Press to Handstand Essentials
-The Warm Up
-What is a Press Handstand?
-Hip Flexor Mastery
-Kaplash Drills
-Compress & Strengthen
-Compression Stair Drills
-Shoulder Leans
-Essential Drills for Flight
-Power of Leg Retraction
-Root to Rise
-The Art of Floating Masterclass
-Straddle Press Masterclass
-Shoulder Focused Stretch Class
-The Cool Down
Module 2
Straddle Press Mastery
-The Warm Up
-Straddle Sock Slides
-Essential Straddle Press Drills
-Straddle Press Simulation with Blocks
-Toe Tap Throw Aways
-Ellavate Your Press
-Straddle Press Walks, Toe Taps & Beyond
-Flexibility Assessment Press Drill
-Mastering the Negative Straddle Press
-From Negative Lower to Unlocking Flight
-Unlock Your Stalder Lifts Masterclass
-Full Body Yin Class
-The Cool Down
Module 3
Tuck & Pike Press Success
-The Warm Up
-Hip Articulation Masterclass
-Slide Your L-Shape
-Tuck Slides
-The Floating Tuck 
-Pike Sock Slides
-The Floating Pike
-Block L-Shape & Pike Press
-Simulate a Pike Press Up
-Tuck Press on Blocks
-Pike Press on Blocks
-Lower Body Yin Bliss
-The Cool Down
Are you 

ready

to find success like these fellow students?!
Ella's training made me realize that a Press Handstand is a balance between strength and flexibility and gave me tools to achieve this.
 Ricky Los Angeles
Through Ella's teachings, I was able to feel a PUSH out of the ground! That was a big breakthrough for me.
 Trina New Zealand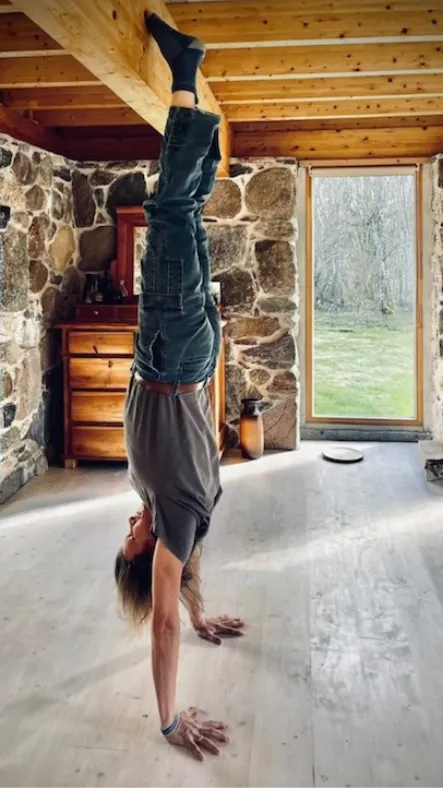 Studying with Ella completely transformed my Handstand practice. She introduced me to the importance of holding up my knee caps so that I'm no longer struggling with inversions.
 Kaur Estonia
Ella's detailed feed back and corrections were exactly what I needed to help me understand what I was missing…
 Tannis Canada
Who Is This Course For?
🎯 

Serious students and teachers who are capable of performing a Handstand and are eager to discover a precise step by step approach to mastering the Press Handstand.



🎯 

Yoga teachers looking to master the Press Handstand and enhance their teaching toolkit so they can help their own students unlock this skill.



🎯 

Intermediate Vinyasa Yogis seeking advanced inversion techniques not readily available where they reside.
 
🎯 

Yoga teachers and dedicated students who are ready to move past the frustration of jumping into Handstands and are determined to undergo focused training to master Tuck, Straddle and Pike Press Handstand!
What Is The Investment to Learn How to Press Handstand?
The biggest mistake many people make is believing  they can master this complex skill for FREE by watching Instagram and YouTube videos, hoping that this approach will lead them to success. While it's one path, it's often slow, ineffective, and more likely to result in failure than success.
You can continue attending Yoga classes….
But ask yourself, does your Yoga teacher possess the expertise to execute a Press Handstand? Do they have the knowledge, understanding and experience to guide you through the process?😳
You could consider taking workshops.....
Although you might gain valuable tips, once the workshop ends and you're back home, you'll confront a crucial question: Do you possess a clear, step-by-step plan for achieving the elusive Press Handstand?
If you're faltering due to an ineffective approach and lack of clarity, what's the solution?  What alternatives do you have?  To provide some perspective, my private sessions are priced at $300 per session and you can expect to need at least 30 sessions, amounting to $9,000!

You could participate in one of my retreats which typically cost between $2,000 to $3,500 for the week.

Even with these choices, a definite action plan might still elude you.  If your aspiration is to truly grasp the Press Handstand technique and obtain a clear, efficient action plan without incurring exorbitant costs the solution lies in enrolling in a tailored course designed by a Junior Olympic Romanian Gymnast.  This course is curated to teach you how to master the Press Handstand like a Pro!
Now is your opportunity to learn how to transition from jumping into a Handstand to executing a controlled Press. Allow me to reveal how to turn the seemingly impossible into a reality!
Seize the opportunity:
  Enroll in the Press to Handstand Course Today.....

Unlock Instant Access Now!
PLUS!!! RECEIVE EXTRA FREE GIFTS!!!

These exceptional sessions will significantly contribute to your ongoing education propelling you towards Press success!!!
Exclusive Masterclasses

 That Can Only Be Found Within This Course!
Gain a lifetime access to 11 Masterclasses exclusive to this course.  These sessions are taken from my live monthly membership and have been tested by students to have the highest rate of success in expediting your Press Handstand growth. $700 Value!
Your investment is backed by a 30-day money back guarantee!
I 100% believe in the content of this course.  Its been tested by Olympic hopefuls.  However, it only works if you work it!  You must follow the order and not jump ahead. 
If after 30 days of training, watching and participating in the workshops, you find yourself unhappy, you may email me for a refund.
Just simply record your practice and e-mail a 10-minute video for each section of the course.  Please explain to me where you're stuck and unable to make progress.  I will than refund your investment.

-Ella
Do you feel intimated and not prepared to start your Quest for the Press journey? Are you sure that's not the negative voices in your head messing with you? Why do you give them so much power?
Are you 

ready

to find success like these fellow students?!
Her tough-as-nail drills and individualized cues helped me develop my core and exposed compression and flexibility I didn't know I had. I never dreamed I would unlock my Press in under a year, but Ella handed me the keys!
 Jennifer Dallas
I have become so much stronger, my form has improved substantially and the desire to learn is fed continuously through her persona!  She is the best, truly!
 Debbie Utah
I'm 60 next year and never thought I'd ever be able do a Handstand as they have always scared me..... but with great drills and Ella's coaching, magic really happens:)
 Veronica UK
I have already made progress in my line and was even able to do this with a gaze shift away from the wall.....Thank you Ella!
 Katherine Washington State
It's time to continue doing NOTHING OR make a CHOICE.
You now stand at a crossroads.  One path keeps you trudging the same unfruitful course--a path that leads nowhere.....
BUT, imagine this: A meticulously crafted, high impact action plan that awaits you.  Why not grasp it with both hands?  Why not offer yourself a genuine shot at conquering the Press Handstand?
Time doesn't wait, and neither should you.  If you're ready to commit to your training, take action today!  Your journey starts now. 
If doubt clouds the view of your own potential, inaction remains a choice.....
The power to choose is yours.
Stop Jumping Into Your Handstand.
Learn How to Master the Press to Handstand Instead!
Ready for the Challenge?
Get Instant Access Now-- only

$198!
Are You Worth the Investment?
SAVE 50% BY ENTERING CODE PRESS AT CHECKOUT🎉
FAQ...
Check out my answers to your favorite questions:)
How will this Press to Handstand Course help me?
Is this Course appropriate for beginners?
How do I gain access the course?
Do you need a free standing Handstand?
Have a
question

that wasn't answered?