ELLA

VATE YOUR PRACTICE
Transform Your Limits
If you're looking to take your practice to the next level, you've come to the right place. Our on demand classes are designed for intermediate to advanced yogis, including former athletes, who are looking to challenge themselves and push their limits.
In addition to our online classes, we offer a specialized live monthly membership that will help you master challenging poses like Handstands, Arm Balances and Inversions.
If you're ready to take your yoga practice to new heights, join us today and experience the benefits of a strong, flexible, and balanced body and mind.
"Take Your Yoga Practice Anywhere, Anytime with
Ella

vate Yoga."

Whether you're traveling, working from home, or simply want to fit in a quick yoga session before or after work, we've got you covered.

And because our classes are available at a fraction of the cost of traditional studio fees, you can save money while getting the same, if not better, quality instruction.

Ellavate Yoga is the place for you, if you're looking to build strength, increase flexibility, or simply challenge yourself. Join us today and experience the benefits of a strong, flexible, and balanced body and mind.

START YOUR 7 DAY FREE TRIAL!
Hello!
I'm
Ella.
Growing up in Romania's Communist society and as a member of the Junior Olympic Gymnastics Team, I was no stranger to physical discipline and mental fortitude. However, it was my experience with fear and anxiety that led me to discover the transformative power of yoga.
In my classes, I emphasize the importance of mental strength as much as physical strength, empowering my students to overcome their own challenges and fears.
Since then, I have become a respected yoga teacher, known for my unique approach and ability to connect with students on a deep level. I have helped countless individuals find strength, peace, and balance, both on and off the mat.
My mission is to continue sharing the transformative power of yoga with the world, helping others unlock their full potential and live their best lives.
-Ella
READ MY STORY!
"From the live Handstand classes to the Yummy Yin and the community space in between, it's a perfect mix.
Her words of encouragement and her training keep me focused and engaged."
-Claire D. from Munich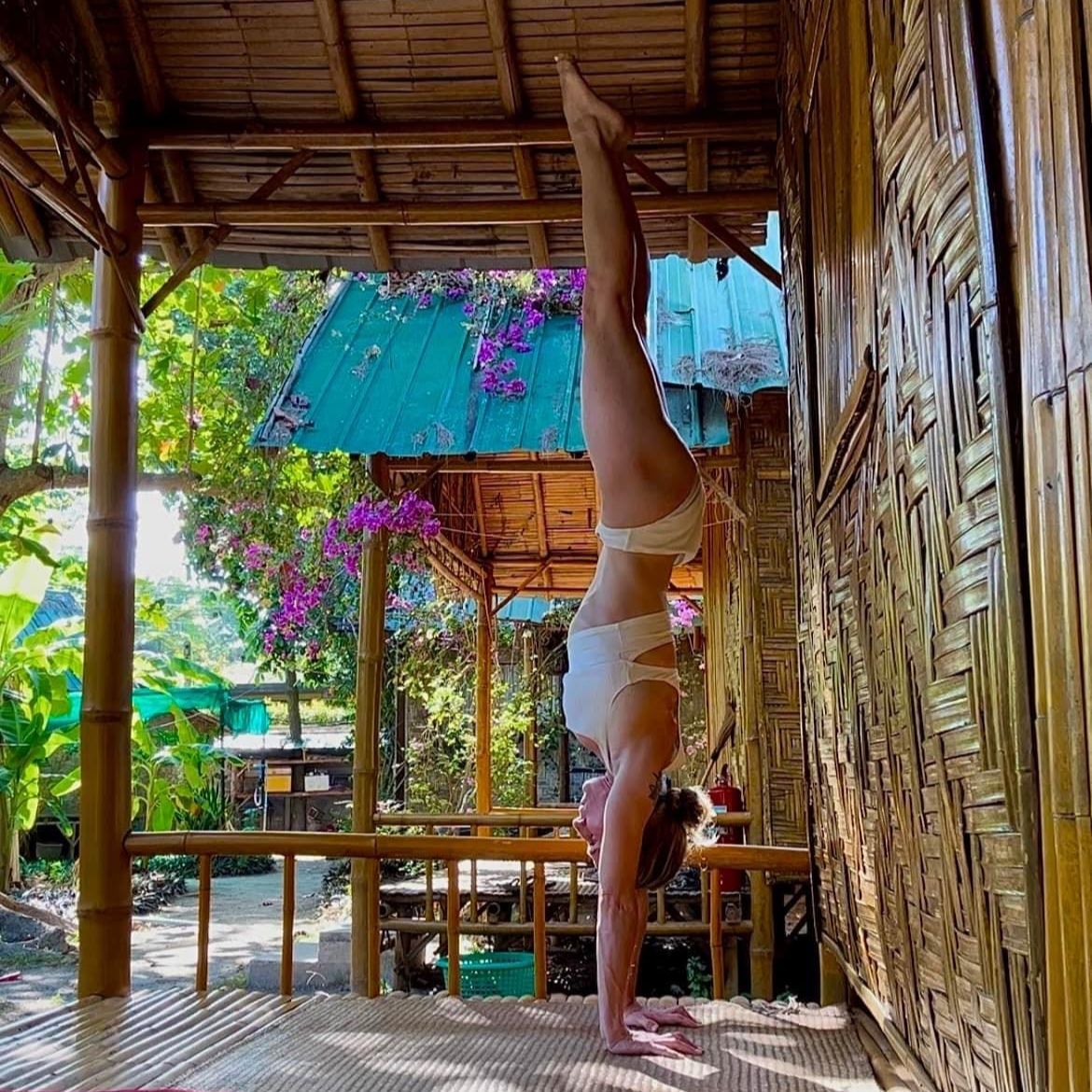 "Best investment I've ever made! I never believed I could do anything like this and wouldn't have dared try without the support of this group! I have learned more than I ever dreamed possible! Grateful every single day."
-Tannis N. from Canada
"I've learned so much from Ella. Not just proper handstand technique, but also: to breathe, to enjoy the process (even the hard stuff) and to meet my body where it's at on any given day. "
-Amelia M. from Los Angeles
Join The
Ella

vate & Levitate Community.

In addition to our on demand classes, we offer a live monthly membership designed to help you master challenging poses like Handstands, Arm Balances, Press to Handstand and much more!

Join the Community!
Level up your Handstand and Yoga practice with....
My Revolutionary
Online

Courses!
STICK your HANDSTAND
Discover how to build a solid Handstand so you can stop throwing yourself against the wall.
Whether you're brand new to Handstands or you feel stuck and not making any progress, then this is the course for you!
Learn More!
PRESS to HANDSTAND!
Learn how to finally stop jumping into a Handstand and discover how to Press instead!
Take the guessing out of the Press game with this step by step revolutionary course that gives you the roadmap on how to Press! 
Learn More!